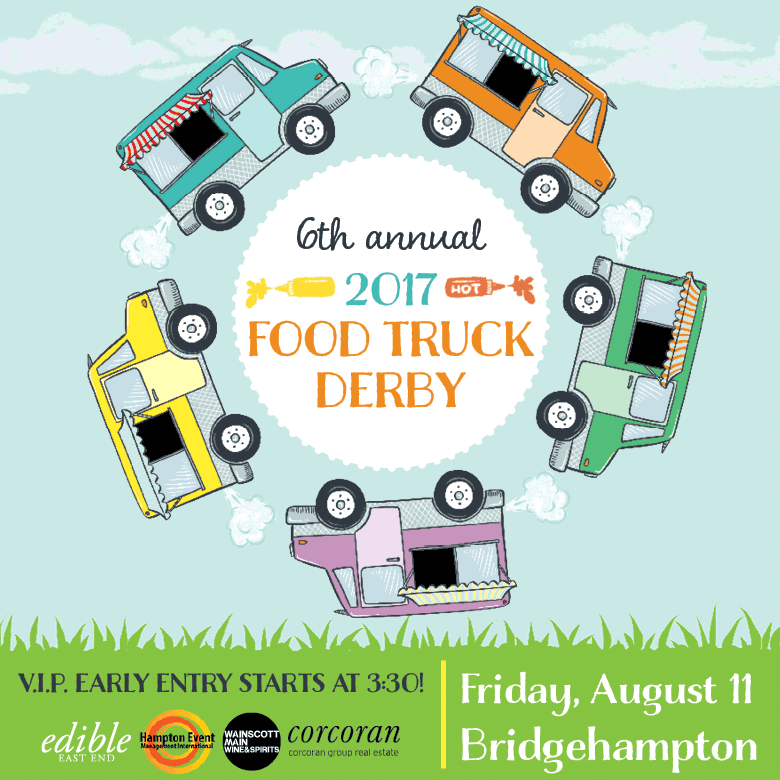 ***RAIN OR SHINE***
THERE WILL BE LIMITED TICKETS AVAILABLE AT THE DOOR.
The Great Food Truck Derby is back! Bring the whole family for a bonanza of ethnic and mobile eats rarely seen on the East End, when a caravan of New York City and Long Island food trucks park amidst potato fields at the Hayground School, alongside New York wine and beer and non-alcoholic drink offerings. Ticket price includes one serving at every food truck and three drinks for adults, and four truck tastes and one drink for children. The food truck coming together will coincide with the Hayground School Community farmers market and programming for kids and families. And the event will benefit the Hayground schoolyard projects in the region, which provide culinary arts training for local kids.
VIP tickets available! Get 1/2 hour early access to trucks, limited to 100 tickets, to get to your favorite trucks first!
Food from…
Anewyoricanthing • Blondie's Bake Shop • Chiddy's Cheesesteaks • Dressen's Famous Donuts Truck • Eat Me Drink Me, Inc.• Elegant Eats • Hampton Coffee Co. Mobile Espresso Unit • King Andrew Cheese • Nice Buns Slammin' Sliders • noah's on the Road • OPA! on the Go • Pizza Luca • The Walrus and The Carpenter's Traveling Oyster Company 
Beverages from…
Wainscott Main Wine and Spirits • Harmless Harvest • Blue Point Brewing Company • La Birra di Meni. • Health-Ade Kombucha • Purity Organic • Elmhurst Milked • The Lenz Winery
Plus…
The Corcoran Group • Renewal by Anderson • Sparkle Grill Cleaning • Resort Lighting, Inc • 
And live music from The Shockwaves
Please note that while we love dogs, we are unable to permit them at this event.