How Fulgurances' Chef Residency Program Helps Foster a Global Culinary Community
Change is a constant at Fulgurances Laundromat, the stateside sister of the Parisian restaurant family. While the brand originated as a French food blog and creative agency, it has expanded over the past 12 years to include a print magazine and four concepts: two restaurants and a wine bar in Paris, and, most recently, a restaurant inside a refurbished laundromat in Greenpoint's historic district. The piece that makes the Fulgurances locations so unique? A chef residency program.
The idea of the chef residency first came to co-founders Hugo Hivernat, Sophie Cornibert, and Rebecca Asthalter as an opportunity to highlight an often underappreciated pillar of any professional kitchen: the sous chef. After visiting multiple restaurants—most notably Copenhagen's Noma and Paris's L'Arpège—they realized that the head chef was typically not in the kitchen and that the sous chef kept things running during service. This experience inspired them to begin inviting sous chefs from restaurants around Europe to come to Paris for one-night-only pop-up events. They called it Les Seconds Sont Les Premiers ("The Sous Chefs Are Chefs"), beginning in 2010 and lasting five years.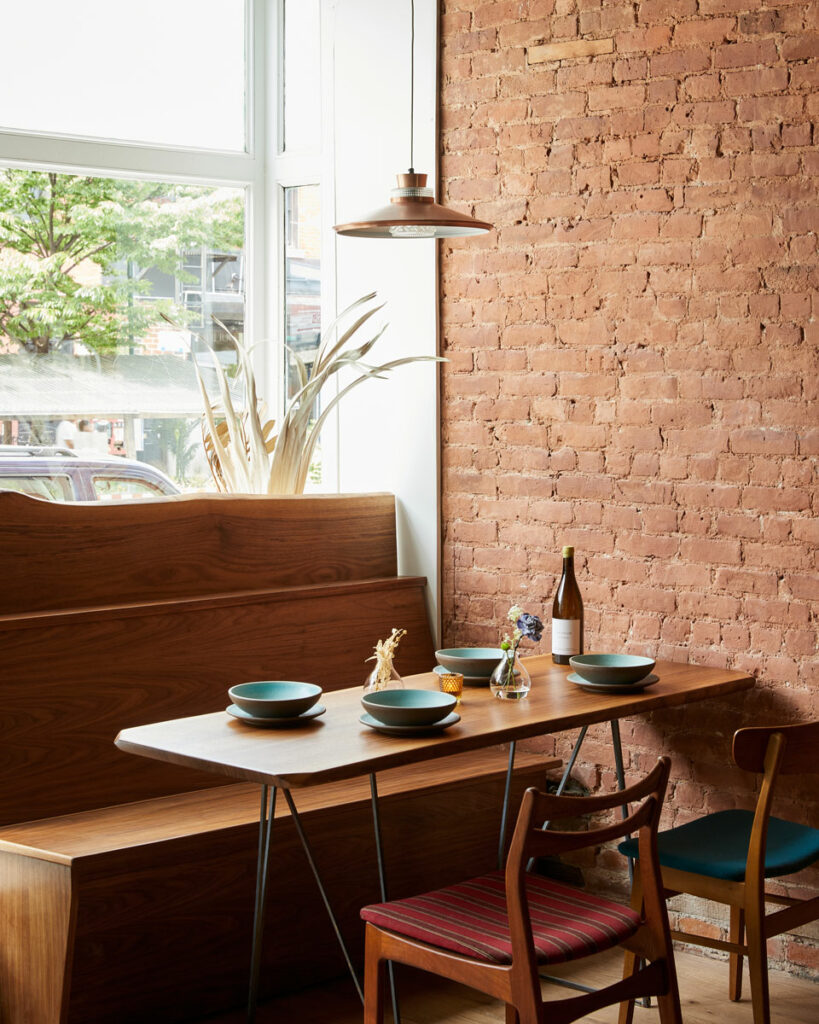 In 2015, the trio decided it was time to create something more permanent and sustainable, so they opened Fulgurances L'Adresse in Paris' 11th arrondissement. Shortly after opening, Fulgurances introduced the chef residency program it's known for today. "Pop-ups have their limits. They don't provide enough time for the chefs to evolve or progress," Hivernat says. "We wanted to create a restaurant that would provide resident chefs with a structure that would allow them to grow." The residency allows them to step outside of their comfort zone, temporarily run a kitchen, and further expand their reach in the culinary world. "Fulgurances is more than a place for pop-ups," Hivernat says. "It is a place that is truly alive, where chefs can come in and take risks. They don't have to be perfect. Imperfect is perfect."
In 2019, Hivernat came to New York City to open a Fulgurances in Brooklyn. After visiting around 25 locations, he landed on the second space he saw and had initially written off: an abandoned laundromat on Franklin Street, just south of Greenpoint Avenue. Once he signed the papers in August of 2019, the space slowly began to turn into the restaurant the Fulgurances team envisioned. The journey wasn't easy—they navigated the many hurdles that come with renovating a landmarked building, fought for the liquor license, and worked with their landlord to stay afloat during the brunt of the COVID-19 pandemic—but they kept adapting and officially opened Laundromat in May 2021.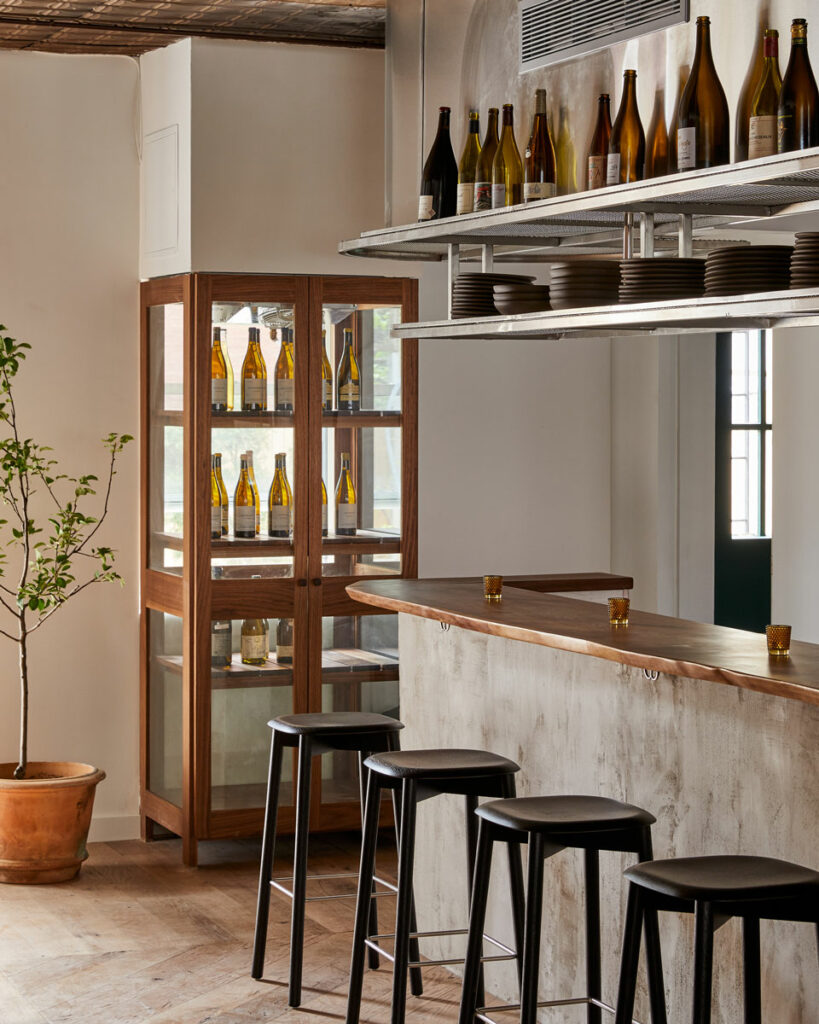 The restaurant's system is simple: There is a set staff, and the only moving part is the chef in residence. "Typically, a restaurant revolves around the name of the restaurant or the name of the chef. Everyone else disappears," says Fulgurances's head chef, Francisco Pedemonte. "Fulgurances does it differently. We work as a team, as one unit." Because a new resident chef arrives every few months, their core system must work. After all, a house built on a cracked foundation is bound to collapse. "We're very collaborative. I want everyone to have an opinion and ideas," he continues. "I need input to make sure things work. We create cool things and execute exciting ideas because we trust each other and talk."
The core team is small but strong. When the resident chef comes in, the core serves as a backbone and a safety net for them—a foundational support system. "We're just like a trampoline. If they fall, we're here to catch them and push them as high as they can soar," Pedemonte says. "They have to jump, we can't make them, but we'll do everything we can to help them succeed." By providing this support system, the chefs have the freedom to try things they maybe haven't had the opportunity or resources to try before.
Antoine Villard, the incoming resident chef for October and November, plans to use his time at Fulgurances to try new dishes and experiment with different products and produce specific to the United States. "I am very curious about the products and how people are eating in NYC," he says. "It's a beautiful challenge and experience." He fell in love with cooking at a young age. He was first introduced to the kitchen by his mother and grandmother, which evolved to rapidly scribbling down his favorite recipes from the television show Bon Appétit Bien Sur, before starting culinary school at the age of 18. Villard has created a name for himself in the culinary world and is no stranger to Fulgurances; he was a chef-in-residence at the Fulgurances in Paris last winter. "[Fulgurances' owners] always stay humble; that's the key to their success," he says. "They deeply love restaurants and chefs, which makes them some of the best people to provide this opportunity for young chefs to express themselves."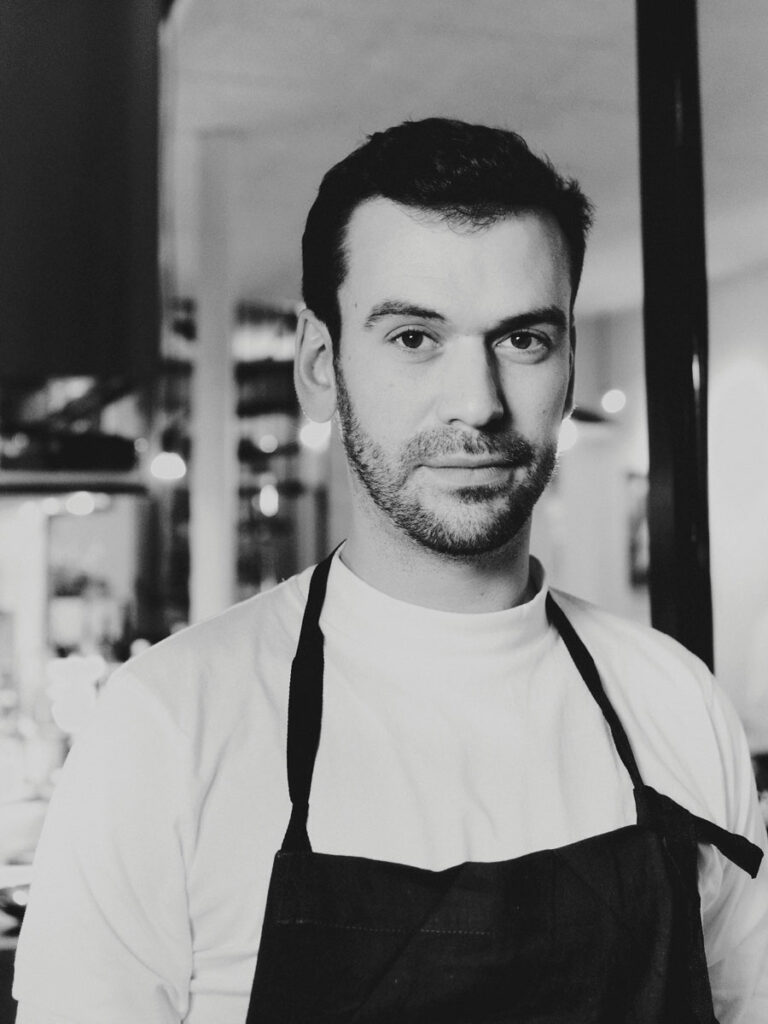 As the Fulgurances staff prepares to welcome Villard to the kitchen, Pedemonte reminisces about how the permanent team has grown with each new resident. "We build a community of learning," he says. "It's eye-opening to work with these talented people and assist them with their techniques." It's an environment where the food, and the community that surrounds it, are the priority. "It's a really beautiful thing."
FULGURANCES
@fulgurances_laundromat
132 Franklin St
Brooklyn, NY 11222
Originally featured in our Winter 2022 Issue