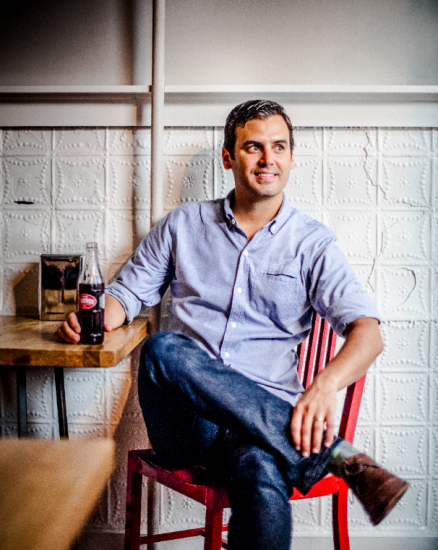 In our latest travel issue, we sat down with Andrew Knowlton to discuss his life as the restaurant and drinks editor at Bon Appétit. After traveling 30,000 miles through 22 states, Knowlton produced the list below with his top choices for where to eat and drink now. We're pretty sure we can trust the judgement of someone who managed to consume 200,000 calories a week when he was on the road.
WHERE TO EAT NOW

Alma, 952 South Broadway, Los Angeles, CA 
Chef Ari Taymor is a star in the making. His creative, produce-driven dishes are dazzling. Be sure to try the tasting menu, which could include seaweed and tofu beignets or dry-aged pigeon.
Xiao Bao Biscuit, 224 Rutledge Avenue Charleston, SC 
A former gas station provides the backdrop for pan-Asian drinking food.  Don't miss the okonomiyaki (a savory Japanese pancake) and the whole fish daily special.
Rolf & Daughters, 700 Taylor Street, Nashville, TN
Music City's new favorite neighborhood hangout has the best pastas I've had in a long time. My favorites are the squid ink canestri, garganelli verde, and the farro gemelli.
Olio, 1634 Tower Grove, St. Louis, MO
One of my favorite spots for a long boozy lunch filled with Mediterranean and Middle Eastern inspired foods. All the dips are great, but make sure to get the charred eggplant with kefir and tahini.
Aska, 90 Wythe Avenue, Brooklyn, NY
At least once you should try Chef Fredrik Berselius's crazily inventive New Nordic cooking. The tasting menu is the only option in the dining room. Snacks like a Swedish-style hot dog are served at the bar.
WHERE TO DRINK NOW
Billy Sunday, 3143 West Logan Boulevard, Chicago, IL
Try something from the "Tonics" section of the menu or the vintage fernets.
Paper Plane, 340 Church Street, Decatur, GA
Don't miss the Red Rooster, which has lemon, pickled strawberry and three types of booze.
Trick Dog, 3010 20th Street, San Francisco, CA
May favorites are the Cel-Ray soda and aquavit highball.
Dead Rabbit, 30 Water Street, New York, NY
Be sure to order the punch, a bowl of citrus, spice and spirits to share with 3-7 of your closest friends.
The Original OKRA Charity Saloon, 924 Congress Street, Houston, TX
It doesn't matter what you order, but make sure you drink tons. 100% of proceeds go to local charities.