Get in front of New York's ravenous food community.
Why Edible?
Through Edible's Digital, Social, Events, and Print channels we celebrate food and drink culture season by season, community by community. Our audience of food and drink enthusiasts, media, and trade are the most interested and influential people you can reach.
Edible readers are concerned, connected, savvy, and community-minded. They influence their friends, telling them where to shop, where to eat, what to cook, what to drink, and why.
And, frankly, they trust us. They know we are an honest, smart, and beautiful publication. With a unique, decentralized publishing model, no other magazine devotes editorial exclusively to local foods and food culture.
Over 3.6 Million Impressions in 2021 & Growing
775,000
WEBSITE IMPRESSIONS
870,000
PRINT IMPRESSIONS
Targeted Demographic
Our thoughtful, concerned readers are exactly the sorts of customers you want.
"Bedell's association with Edible Manhattan allows us to reach a targeted audience who are genuinely interested in learning more about the beauty and passion of the wine and food culture. It is the core of our advertising program."
—Trent Prezler, Bedell Cellars, Cutchogue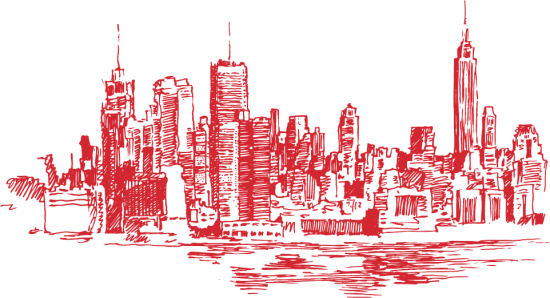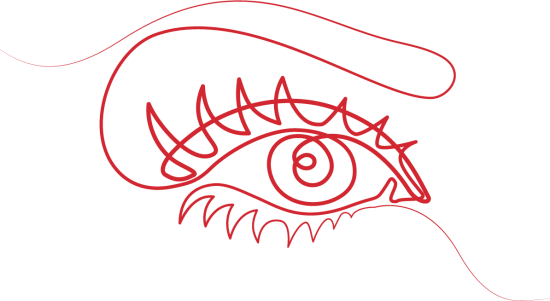 High-Visibility Ads
Our readers tell us that they "read the magazine cover to cover—even the ads." That means more exposure for you.
"The mission of the Edible publications supports the mission and values of Whole Foods Market. It's a great fit for our advertising budget, it targets exactly those local residents we want to reach, which makes it highly effective for us."
—Angela Rakis, Whole Foods Market
Trust
Because we don't review restaurants or lean on gossipy stories, our readers trust the businesses we write about and the businesses that advertise with us. That means they are more likely to become new customers for you.
"Edible is the best publication around these days. Really, it's incredibly honest and informative."
—Dan Barber, Blue Hill and Blue Hill at Stone Barns

Print Ads
We publish our highly coveted print magazines on a quarterly basis. Our diehard readers seek them out, read them front to back, and treat them like coffee table books — the content, design, and quality speaks for itself.
We distribute to over 750 gourmet markets, bottle shops, restaurants, coffee shops, hotels, cultural institutions, breweries, wineries, retail boutiques, and residential lobbies in Manhattan, Brooklyn, Westchester, and the Hudson Valley.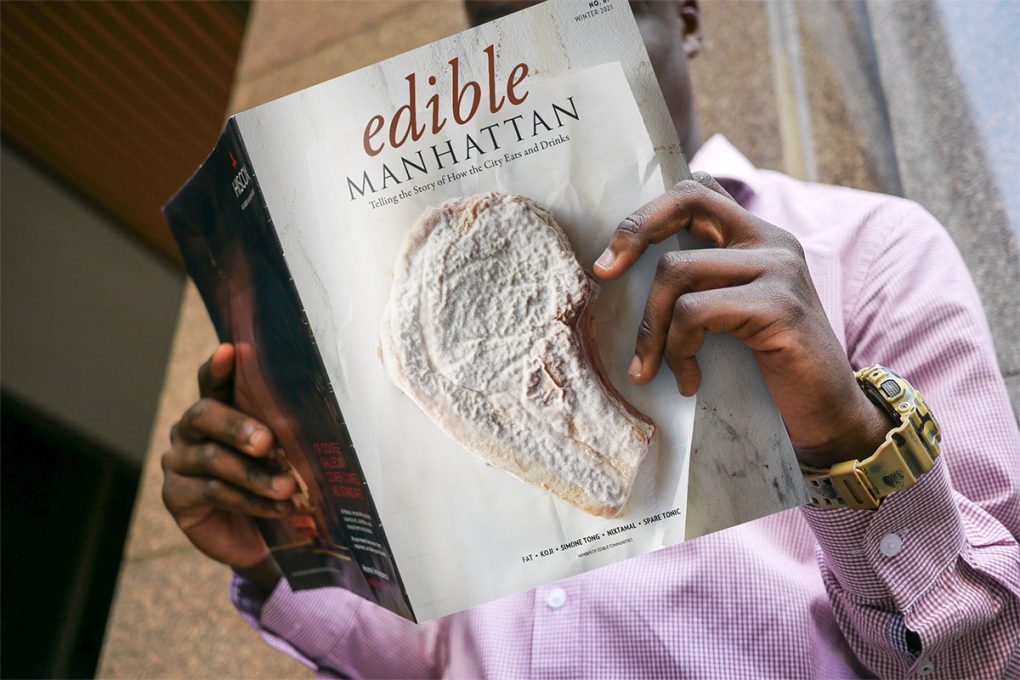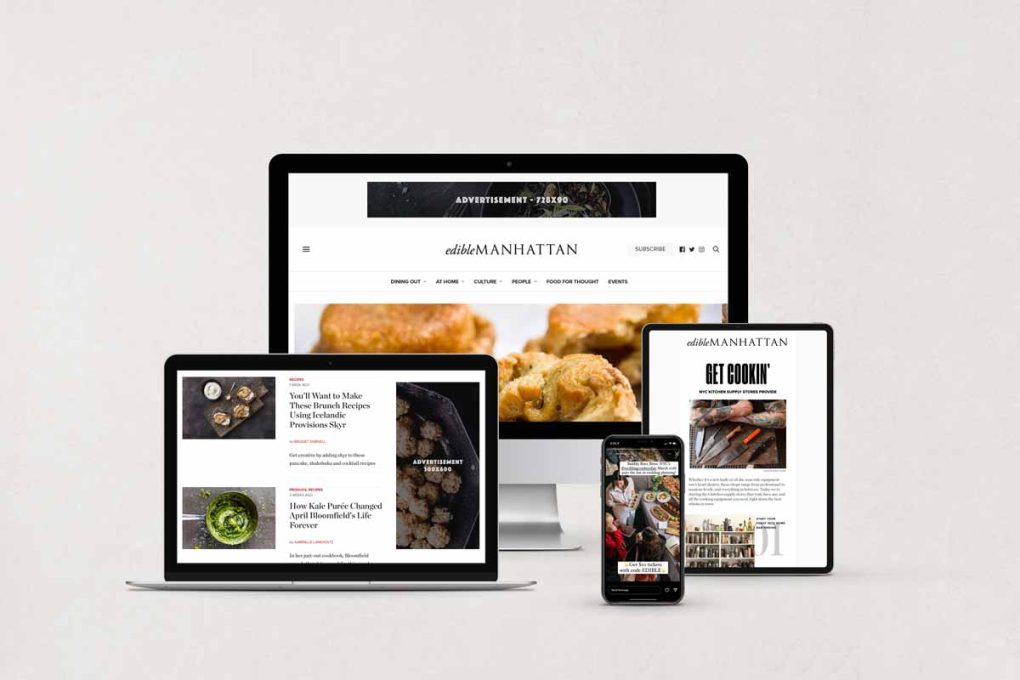 Digital Partnerships
Drive targeted impressions and audience reach across our omnichannel marketing platform. Optimize for brand awareness in collaboration with our trusted brand and engaged audience, all the way to down-funnel conversions.
We provide a suite of digital advertising packages across web, social, e-mail, and SMS channels.
Events
Our events team provides an eclectic array of live experiences, like pop-up dinners, makers markets, and special launch celebrations, that connect food and product purveyors with engaged consumers.
Custom sponsorship enables our brand partners to embed their products indelibly in a positive, memorable experience. Hosting an event you'd like us to include on our calendar?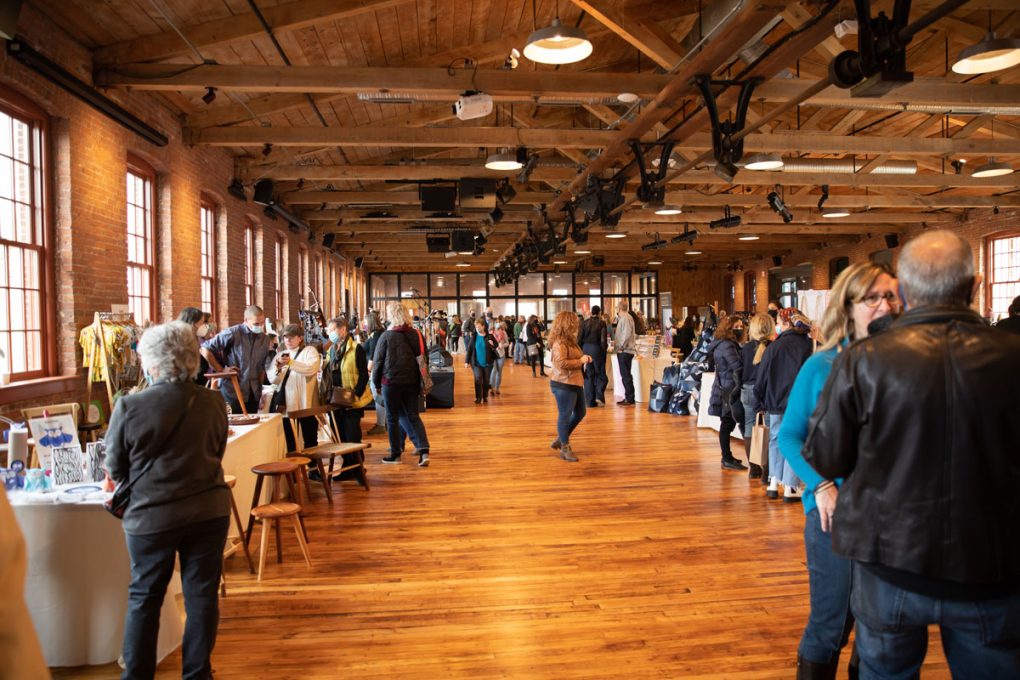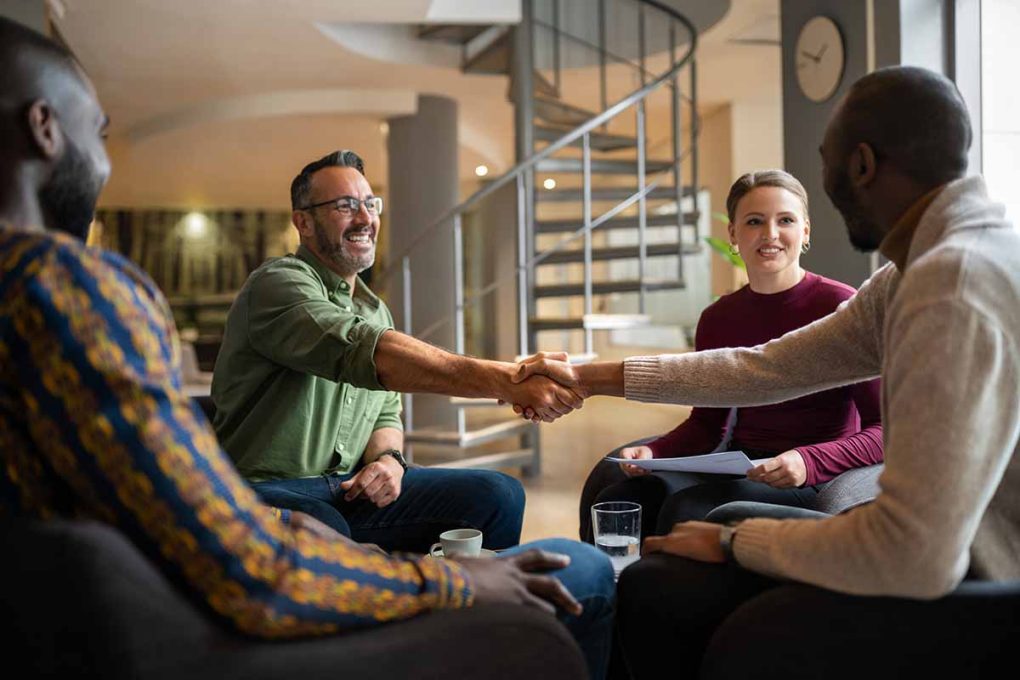 Branded Content and Custom Publishing
Partner with our creative team on native advertising opportunities such as branded content and custom publishing projects. We will work with you to determine brand value alliance and tell your story.
These are effective marketing solutions to building trust, promoting awareness, and driving conversions for your business.