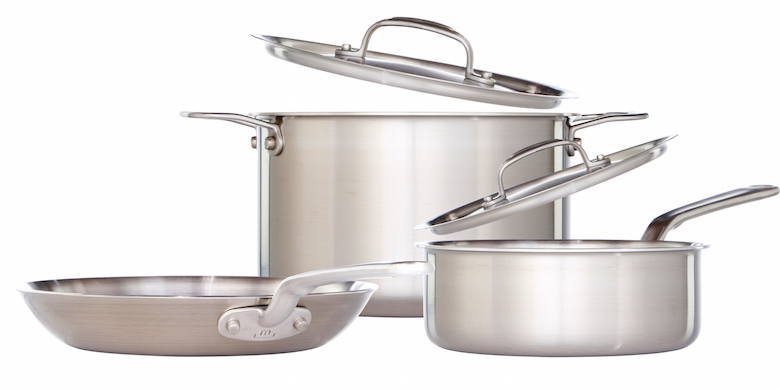 Upgrade your kitchen game and get ready for holiday entertaining with fashionable and functional aprons from hospitality workwear company Tilit and premium pots and pans from the recently launched, direct-to-consumer cookware brand Made In!
Our readers have a chance to win Tilit's bestselling apron, the Contra Chef Apron, the female-focused Wrap Apron that is designed to fit and flatter any and all female frames, and Made In's Starter Kit (complete with a 10" Fry Pan, 2 QT Sauce Pan with Lid, and 5 QT Stock Pot with Lid).
More About Tilit:
Cofounders, hospitality industry veterans, and husband/wife team Alex McCrery and Jenny Goodman launched Tilit to fill the gap in the culinary industry for stylish and functional apparel. The line allows chefs, home cooks, and style seekers the ability to transition seamlessly from stove to street and street to stove. To view the entire line, visit: www.tilitnyc.com.
More About Made In:
Made In is a premium cookware brand providing kitchen tools direct to the modern cook. By cutting out the costs associated with classic retail stores, Made In is able to create a better product at a lower price. Made In also aims to inspire and excite modern cooks to make better food at home through educational content on its social channels and blog. Made In's full collection features heat resistant handles, chemical-free coating, 5-ply construction to minimize rusting, warping and uneven cooking, and are stackable and dishwasher safe. Supporting family owned businesses, Made In has an exclusive partnership with one of the few U.S. based cookware manufacturers, who has been making quality cookware for over 50 years. They work closely with their partners to ensure they are delivering high-quality products. The collection is produced in an environmentally responsible method and all production materials are recycled.
Can't see the form? Enter at this link.
Click here for terms and conditions.