First published in the Spring 2007 edition of Edible Brooklyn
Comment | January 20, 2010 | By The Editors | Photographs by Michael Harlan Turkell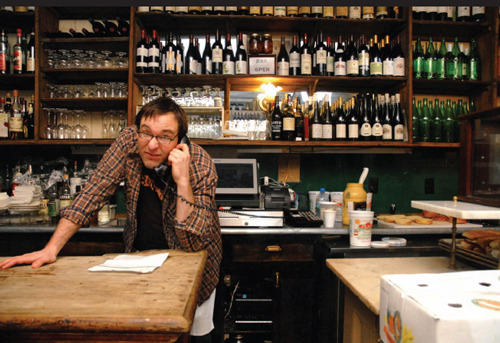 Local ingredients and South Williamsburg, since before they were hot.
WILLIAMSBURG—It is 10:30 Sunday night and a sous-chef at south Williamsburg's Diner can't open the boxcar restaurant's door a cautious 15 inches without gently coming into contact with a woman's vintage turquoise overcoat. The turquoise-coated woman and her would-be dining companions faithfully awaiting a table make enough room for the chef and the box of turnips in his hands to enter the restaurant and carve their way down the narrow, crowded aisle between bar and booths. Tight maneuvers in this ongoing afterparty have become second nature to the staff, who slip past guests with the elegance and precision of a dresseddown Blue Angels squadron. The root-handed man in worn houndstooth pants heads to the kitchen where Brooklyn's most magical alchemy takes place, as a waiter in his Beacon's best whisks a plate of the same ingredient to a waiting lucky table. His turnips, now roasted, costar alongside beets tossed with pomegranate vinaigrette, fried chick peas, crumbly feta and grilled flat bread in an exquisite, ethereal ensemble.
Sit down to dinner at Diner and you'll soon learn there are no blue plates—but eating here is all about the specials. Sure, mainstays like our favorite burger in the borough, a succulent roast chicken, and the habit-forming, goat-cheese-kissed green salad deserve to be on offer night after night, year after year, and the waiter presents this reductive menu to a table of two—he in a vintage Journey T-shirt, she in a trucker cap. But they would do well to follow his every word as he sits, yes, sits, and jauntily scrawls the day's specials (a half dozen apps, including chicken liver crostini wtih pancetta and onion jam, plus at least as many entrées, often featuring the best proteins, morally and epicurally, available anywhere), on their paper tablecloth, the kind that allows for, even encourages, an enthusiastic burgundy spill or two. Such improvised, up-to-the-minute menu presentation is essential
to keep pace with chef Caroline Fidanza's reactive, ingredientdriven approach to food: She builds her menu around the harvest delivered to the restaurant by a who's-who list of local farmers, which doesn't leave time for printers and such. While many restaurants with, ahem, so-called seasonal fare ship in asparagus and fava beans starting in February, Caroline and co. are the rare real deal, and the farmers aren't the only ones reaping the benefits. Pardon our swoon, but this unassumingly simple yet transcendently ineffable fare keeps us coming back for more, and more, and more.
Even the drinking water keeps with the studied lack of pretension. Unlike every last Zagat-lauded restaurant serving such sparkling food, customers here are not presented with the requisite choices of five-dollar waters. Rather each table receives an elegant green glass bottle of New York's finest tap water, fresh from the upstate watershed by way of the Croton Reservoir, presented simply and beautifully, starring as itself, the perfect accompaniment to the produce and meats that hail from those same fields and pastures.
As the name rightly conveys, here you can slouch with your bandmates between hangovers, wiping mayo from your cheek with paper napkins from the table's dispenser as your server slams down your chocolate cake with narry a hushed "and here we have the…" But this come-as-you-are, downright downmarket attitude is served up with food dressed in tux and tails—the mayo is housemade, and the chocolate cake, and its perfectly, blessedly unsweet whipped cream, would come with a string of adjectives, a $12 bill, and possibly a sneer across the river. Here the Williamsburgian masses need not shave, even bathe, to worship at this everyman's temple of gustatory delights. Belly to the bar, anyone can dine on tender rabbit braised in white wine, saffron, cinnamon, clove and star anise with an 18-year-old Sazerac rye whiskey to wash it down.
Diner's namesake is the real, restored, 1920s-era Kullman diner car it's inhabited since opening six years ago. Caroline et al are also responsible for the two-year-old oyster-bar-cum-gastropub Marlow & Sons next door, and reaffirm their commitment to local food in its front room where a tight, meticulously selected general store stocks produce and sundries: Red Jacket apples, Cato Corner cheese, Rick's Picks, homemade pastries, Acacia honey, Evan's Creamery milk, Meyer's cleaning products and Fee Brother's Bitters. Like an Easy Spirit pump, the space transitions gracefully from day to evening: at dusk the lights come down and displays of local fruits make way for muscadet, dandelion greens with bacon, and those impossibly perfect oysters.
Later, back in Diner, the air is loud with conversation, the eager scrape of silverware on deplenished plates, and the tremelo twang of 1960s garage rock. At each table a votive candle casts minimal light over the proceedings. But hearing and sight become unnecessary when taste is paramount. The artful crescent moons left by a lipsticked guest on the window above our table took the kiss right out of our mouth: we heart diner 4ever.